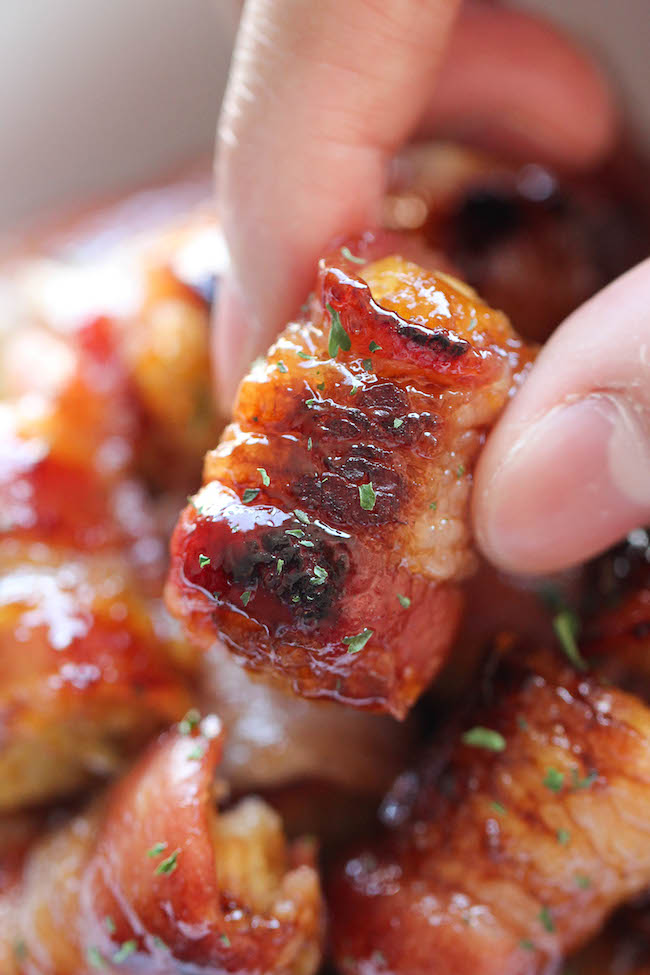 BACON WRAPPED TATER TOT BOMBS
Courtesy of damndeliciou.net
Prep Time
15 minutes
Cook Time
25 minutes
Total Time
40 minutes
Yield
4 servings
The most amazing tater tots ever, baked to crisp bacon-perfection. It's so good, you'll want to double or triple the recipe!
INGREDIENTS
2 cups frozen tater tots, at room temperature
1 ounce sharp cheddar cheese, cut into 1/4-inch squares
4 slices bacon, quartered
1/4 cup Brown Sugar
1 tablespoon chopped fresh parsley leaves
INSTRUCTIONS
Preheat oven to 400 degrees F. Line a baking sheet with parchment paper or a silicone baking mat; set aside.
Working one at a time, wrap each tater tot and cheese square in a piece of bacon. Repeat with remaining tater tots, cheese squares and bacon pieces. Dredge each tater tot in the brown sugar, pressing to coat.
Place tater tots seam side down onto the prepared baking sheet. Place into oven and bake for 20-25 minutes, using metal tongs to turn at halftime.
Serve immediately, garnished with parsley, if desired.
Join my team, make money, lose weight and stay at home while you work!
http://mare51.sbcmovie.com/
TRY ALL NATURAL SKINNY FIBER
http://mare51.sbcspecial.com/
Join my free weight loss support group at
https://www.facebook.com/groups/skinnyupwithmare/