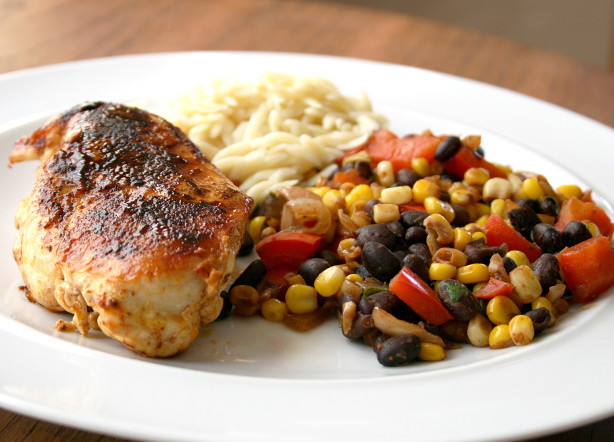 400 Calorie Meal!


Chicken With Balsamic Succotash
Ingredients:
Servings: 4
1 tablespoon chili powder
1 teaspoon chili powder
1/2 teaspoon salt
1/2 teaspoon black pepper
4 boneless skinless chicken breasts (1 1/2 pounds total)
2 tablespoons olive oil, divided
1 cup chopped onion, use a sweet variety such as Vidalia
2 garlic cloves, minced
1 sweet red pepper, cut into 1/2 inch pieces
2 cups frozen corn, thawed
2 cups frozen lima beans, thawed
3 tablespoons balsamic vinegar (good, as Ina would would say ,-)
1/4 cup chicken broth (or water)
1 tablespoon chopped parsley
Directions:
1
Mix together 1 tablespoon chili powder, salt and pepper. Sprinkle on the chicken pieces.
2
Heat 1 tablespoon oil in a large nonstick skillet over medium heat. Add chicken pieces and cook 7-8 minutes per side until browned and juices run clear. Remove from skillet and tent loosely with foil.
3
In the same skillet, add remaining olive oil and onions. Saute for 3 minutes then add red peppers and garlic. Continue cooking until onion is tender; about 5 minutes.
4
Add corn, lima beans, remaining 1 teaspoon chili powder and the vinegar. Cook for 5 minutes. Add broth (or water) and parsley. Heat through.
5
To serve, place a bed of succotash on a plate and top with whole or sliced chicken breasts.
Courtesy:
food.com
ೋღ ღೋ
LIKE SHARE COMMENT FOLLOW FRIEND ME
ೋღ ღೋ
https://www.facebook.com/Mares.Place
Join my free weight loss support group at
https://www.facebook.com/groups/skinnyupwithmare/
TRY ALL NATURAL SKINNY FIBER
http://mare51.eatlessfeelfull.com/
Join my team, make money, lose weight and stay at home while you work!
http://www.skinnybodycare.com/myURL#movie
#weightloss #healthy #skinny #skinnyfiber #exercise #healthy #recipes #motivation #inspiration #DIY #crafts #workfromhome #doglovers #stayathomemoms