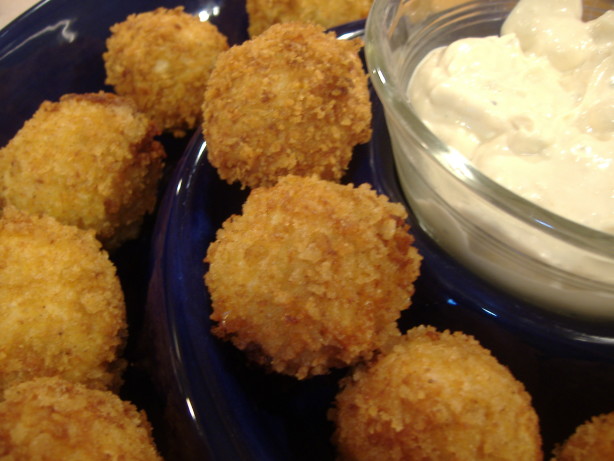 Who knew that chickens even had........oops.......never mind!
Buffalo Chicken Cheese Balls With Blue Cheese Dip
Courtesy of food.com
Ingredients:
Yield:
15-20
1 store-bought rotisserie-cooked chicken
1/4 cup hot sauce (recommended Frank's Red Hot)
1 teaspoon ground black pepper
1 3/4 cups sharp cheddar cheese, grated
1/2 cup thinly sliced green onion, green tops as well
1 cup all-purpose flour
3 eggs, lightly beaten
2 cups panko breadcrumbs
vegetable oil, for frying
For the dip.......
1 1/2 cups mayonnaise
1/2 cup packed blue cheese, crumbled
1/2 teaspoon hot sauce
2 teaspoons Worcestershire sauce
1/2 teaspoon salt
1/2 lemon, juiced
1 teaspoon minced garlic
Directions:
1.Have oil heated to 350 degrees F.
2.Pick the meat from the chicken and discard the skin, then dice.Place the chicken in a large bowl and add the hot sauce, pepper, cheese, and green onions, and toss to combine. Roll the chicken into 2-ounce balls, about the size of a golf ball.
3.Place the flour, eggs, and Panko crumbs in 3 separate bowls. Roll each ball in the flour, then the egg and then the bread crumbs. Set aside.
4.When the oil is hot fry the chicken balls in batches. Cook for about 2 minutes per batch. Drain on paper towels.
5.To make the dip, combine all ingredients in a large bowl and adjust the seasoning if necessary. Serve the chicken alongside the dipping sauce.
REMEMBER!! WATCH YOUR PORTIONS! I have found that many do best when they control their portions rather than deny themselves food!
☆---> Thanks for sharing my posts! <---☆
┊ ┊ ┊ ☆ Follow me --->
https://www.facebook.com/Mares.Place
┊ ┊ ★Lose Fat Now! --->
http://mare51.sbc90daychallenge.com/
┊ ☆Join my Group --->
https://www.facebook.com/groups/skinnyupwithmare/
★Fire Your Boss! -->
http://mare51.discoversbc.com/